from July 01 to September 16, 2018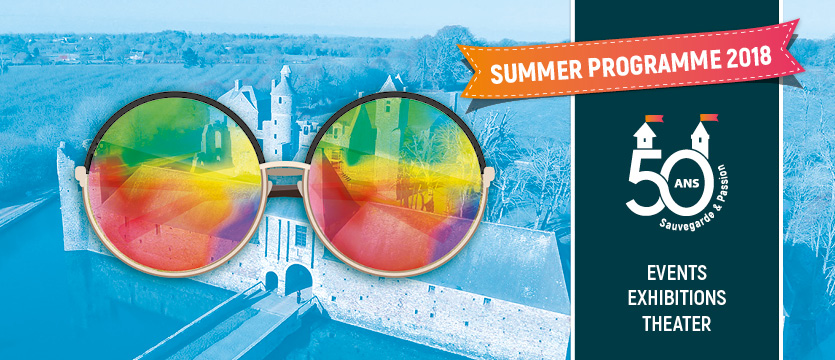 The 2018 season at the Castle is about paintings, engravings, sculptures, A propos de jardin, theatre and celebrating 50 years of preservation and passion,  the fiftieth anniversary of the Centre d'Animation du Château de Gratot.

Download the 2018 summer programme at the Castle (French version only): CHATEAU_DE_GRATOT_PROGRAMME_2018
Exhibitions –  July 1st  to September 16, 2018

Kim Rouch and the wild landscapes of the Manche coast- Paintings.
www.kimrouch.com
Mathilde Loisel and the Legends of Normandy – Engravings
mathildeloisel50.free.fr
Marc Dupard and Sculpture of the emotions  – Sculptures
www.marcdupard.com
Vernissage on Friday July 6, 2018 starting at  06:00 pm.
Read more about each artist in our article "Summer exhibitions"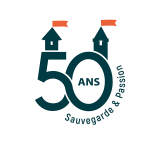 A unique human experience,
50 years of restoration and cultural animation
Join us to look back over 50 years of preservation and passion, through previously unseen archive photographs, and follow the adventure throughout the summer on Facebook, Instagram or Twitter.
To celebrate 50 years of working with volunteers, the Centre d'Animation du Château de Gratot has called on our partner artists to create two original works, now permanently installed on the site:
The bench, symbol of commitment and of a love of ancient stones, sculpted by the students of La Roquelle High School
The Legend of Fairy Andaine, illustrated by Mathilde Loisel and interpreted by Laura Rondel, decorative engraver.
A propos de jardin – August 4 and 5, 2018
A propos de jardin, 17th edition, will host more than 50 exhibitors within the Castle and on the outside grounds.
All, from garden amateurs to visitors on a stroll and children, are welcome to come and share passion and know how. A propos de jardin is ideal to discover plants from specialized nurseries or even collectors, garden tools and accessories, antics and modern furniture, outdoor decorations, savors of our soil, pottery, advice from associations and friends of the gardens and art creations.
Exceptional opening of the Saint Gerbold Hermitage as well as a guided tour from the Castle to Saint-Gerbold by a CPIE Cotentin lecturer on Sunday August 5, 2018 at 03:00 pm.
Review the 2017 edition 2017 here.
European Heritage Days – Saturday September 15 and Sunday and September 16, 2018  
On the 35th edition of the European Heritage Days under the theme "the art of sharing", the Castle will open its doors to the public and to an original and timeless creation staged by the Théâtre aux Champs company. Young an adults  can also (re)discover the site's historical and architectural journey and this summer's artists exhibitions.
PRATICAL INFORMATION 
CASTLE VISIT: every day from 10:00 am to 07:00 pm les jours de 10h à 19h
Including permanent exhibit on the Castle's history: "Centuries of life"
Entry fees: adult €4, 10- 18 years old €1.50

K. ROUCH, M. LOISEL ET M. DUPARD EXHIBITIONS– during visiting hours and included in the entry fee –  every day from July 1srt  juillet to September 16, 2018

A PROPOS DE JARDIN – Saturday August 4 and Sunday Augsust 5 from 10:00 am to 07:00 pm
Entry fee: adult €5, 10- 18 years old €1.50 – free parking
Beverages, snacks and delicacies stand

Guided visit with CPIE Cotentin lecturer on Sunday August 5, 2018 at 05:00 pm: €7 € /adult, €3 /10- 18 years old .
Fee including guided tour and entrance to A propos de Jardin.

EUROPEAN HERITAGE DAY – Saturday September 15 and Sunday September 16, 2018 from 10:00 am to 07:00 pm
Free access to Castle's visit and art exhibitions

« salute and fraternity » by Théâtre aux champs
Performances on Saturday and Sunday at 03:00 and 05:00 pm
Artists' fees according to public's generosity
Outdoor performance, booking recommended

Tags: 2018, a propos de jardin, artiste, chateau, coutances, été, Exposition, gratot, gravure, journées européennes du patrimoine, kim rouch, légende, manche, marc dupard, mathilde loisel, normandie, plantes, programme, sculpteur, sculpture, visite