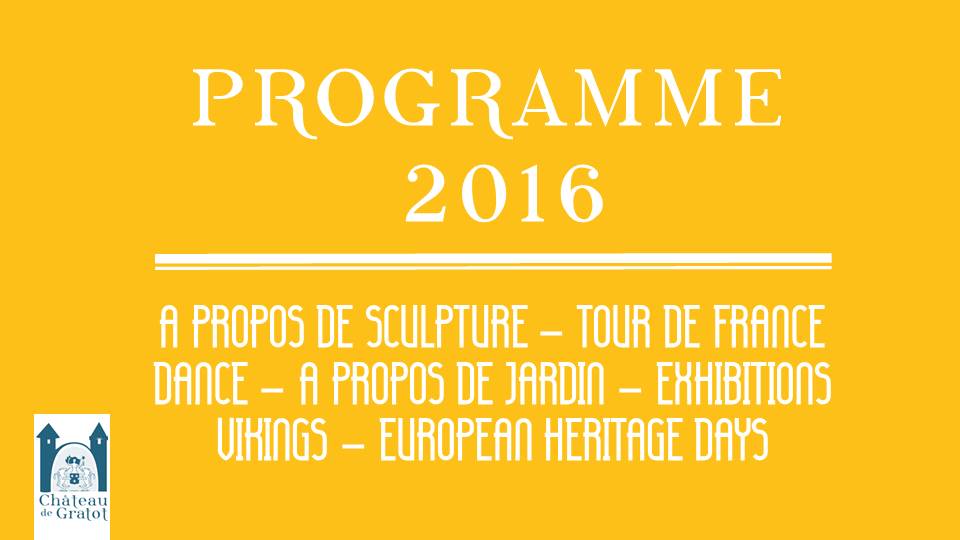 A PROPOS DE SCULPTURE – TOUR DE FRANCE – EXHIBITIONS – DANCE – A PROPOS DE JARDIN – VIKINGS – 2016 EUROPEAN HERITAGE DAYS
CASTLE VISIT ALL YEAR ROUND
End of June: opening of the new historical and architectural path to guide both adults and children throughout the Castle.
Every day from 10:00 am to 07:00 pm – Entry fees: €3/ adult, €1.50 / 10-18 years old – free parking. Telephone: +33 2 33 45 18 49 /contact@chateaugratot.com
More information in our section: Visit&Access
A PROPOS DE SCULPTURE
Thursday May 5 to Sunday May 8 from 10:00 am to 07:00 pm
À propos de sculpture was born out of passions: passion for sculpture and materials, passion for stones and ruins, passion for connecting people and creativity.
16 sculptors will exhibit their works within the Castle, both in the grounds as well as in the exhibitions rooms and buildings. They will be present on site during the event to share with the visitors on the creative thought behind their works.
On the agenda:
demonstrations
live creation of a collective art work
stone-cutting and engraving by the students of the Lycée La Roquelle from Coutances
Access to À propos de sculpture included in the entry fees to the Castle – free parking.
TOUR DE FRANCE GRAND START 2016
from Saturday June 25 to Friday July 8
How about taking your personal souvenir snapshots of YOUR Grand Start on the steps of the Castle's Seigneurial House? You will take selfies and photos alongside the Castle's legendary "Bicycle Fairy", Andaine, who's accepted to be a sport and tag along with the racers. A photocall branded to the theme of the race and Normandy, bicycles and accessories … will be available for you to stage you customized Grand Start in Normandy.
Access the animation included in the Castle's entry fees.
EXHIBITIONS
July and August
This summer, the Castle proudly welcomes 3 artists to exhibit their works in the 18th C Pavilion and the 16th C West Outbuildings.
BILBO
Painter – Theme: "Weaving of dreams"

SOPHIE MARY
A painter who accommodates plates with designs inspired  from the Manche, using various techniques and rendering:  silkscreen printing, engraving, embroidery on wood, paper, textile and faience!

PEPITO ESPIN ANADON
Sculptor: "marbles, bronze, … strong and rigorous figures that ally both power and finesse, balance and élégance…"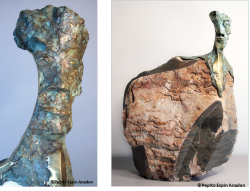 Access to exhibitions included in the Castle's entry fees – free parking.
DANCE AT THE CASTLE
from Thursday July 21 to Saturday July 23
The Meyer Dance Company presents a unique creation of contemporary dance, conceived specifically to be staged on the inside grounds of the Castle.
In addition, every afternoon, the Dance Company offers participation in a contemporary dance workshop for children and adults – duration: 2 hours.
Performance schedule: Friday July 22 and Saturday July 23 at 09:00 pm
Outdoor performance, bring warm clothes – reservation recommended.
Entry fee: €10/ person (free for children under 10).
Children and adult workshops: every afternoon from 3:00  to 5:00 pm on Thursday July 21, Friday July 22 and Saturday July 23 – by reservation only.
Participation per person: €5.
Free parking.
A PROPOS DE JARDIN
Saturday August 6 and Friday August 7 from 10:00 am to 07:00 pm
Celebrating its 15th edition, À propos de jardin will host circa 50 exhibitors within the Castle and in the grounds and will be once again sponsor the opening of the Saint-Gerbold Hermitage. For more information, please refer to our articles A propos de jardin and our 2015 exhibitors list. Of course, in 2016, you can expect various novelties while our regular visitors can count on their favorite exhibitors.
Free parking – Beverages, snacks and delicacies stand.
A propos de jardin (Castle and Saint Gerbold Hermitage visits included): €5/adult; €1.50/ 10-18 years old.
Opening of the Saint Gerbold Hermitage:
Free visit on both afternoons on Saturday and Sunday
Sunday August 7 at 03:00 pm: guided tour from the Castle to Saint-Gerbold (price including tour and Castle's visit: €7,00/ person)
VIKINGS
Friday August 12, Saturday August 13, Sunday August 14 and Monday August 15 from 10:00 am to 07:00 pm
In partnership with the association "Histoire Normande", the Castle is transformed into a real life Viking camp and offers various animations: art craft, marriages, saynettes featuring everyday life key moments. More information and images in our article: "In 2015, the Vikings are back".
Vikings: €5 per adult, €2 per child aged from 10 to 18 years old, free for children under 10. Free parking– Snacks and beverages stand.
EUROPEAN HERITAGE DAYS
Saturday September 17 and Sunday September 18 2016 from 10:00 am to 07:00 pm
Every year, the Castle hold open days on the occasion of the European Heritage Days.

No entry fees and free parking.

Tags: 2016, a propos de jardin, animations, artist, artiste, castle, chateau, combats, danse, espin espadon, été, européenne, Exposition, gratot, gratuit, heritage, jep, journée, normandie, normandy, Patrimoine, plantes, plants, sculpture, summer, tour de france, vikings, visite