from July 04 to August 31, 2014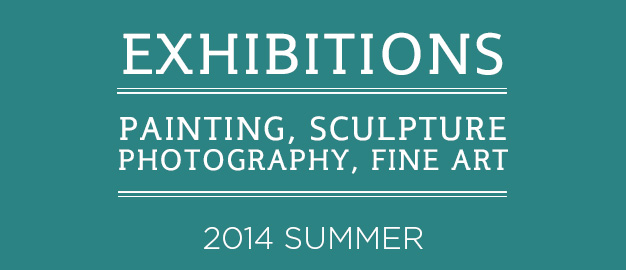 This summer, our visitors are invited to discover 6 artists though 3 exhibitions : Points de vue (Points of view), Magie de la transparence (the Magic of Transparency), Identité Papier (Paper Identity).
Points de vue
3 painters and 1 sculptor – First floor of the West wing Commons
Christelle Bertrand – Painter
A permanent quest for equilibrium between drawing and matter. Her marines face us with immensity, the passing of time and traces left by humans. The line structures the work, matter gives it its deepness while the color palette is reduced to its essentials.
Anne Christine Wellenstein – Painter
"A true love for painting space and immensity whilst grasping for the traces they stamp in our memory".
Her everyday life, wild or urban landscapes become themselves the subject of the picture and unveil their soul. Man is only a guest. Man is only passing by.
www.anne-christine-wellentstein.com
Clothilde Lasserre – Painter
A human centred approach declined around the theme of the crowd and its interpretation.
The artist's purpose is to convey via paint the need of living with others, together, while standing as unique. A powerful brush stroke to give rhythm subdued by a light that remains sensual.
Sophie Jouan – Sculptor

Characters in conquered or unknown territories, anchored to the ground or hanged in the air …they walk on trails, edge their way in passages, slide, explore, push back the limits of balance…
 Magie de la transparence
18th C Pavillon – ground floor
Li-Launay – Photographer
Li-Launay captures the intimacy of flowers, creating a giant size chromatic explosion on transparent or aluminium medium.
Take a photographic travel at the heart of nature, constantly evolving throughout the day with the changing light.
Identité Papier
18th C Pavillon – first floor
Christine Duflo – Plastic arts
Paper crafting and cutting to express improvised vibrations, graphic scripts and imperfect geometries.
The artist invites you to fragments of an inner journey, sensitive to sound and visual background, a cut just finished leads to another one, and another one … a wide array of variations on a mixed identity.