Kim Rouch and his wild landscapes of the Manche region, Mathilde Loisel and the Legends of Normandy as well as Marc Dupard and his emotion sculpture are on display at the Castle from July 1st Septembre 16, 2018.
KIM ROUCH – Oil paintings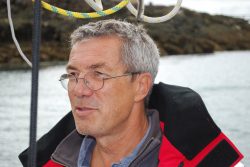 DUNES, WAVES, ESTUARIES, COASTLINES…
… and interpretations of visceral moments and strong emotions, experienced in the very special light of the Manche coast. The landscapes, deceptively quiet, unchanging and fragile, come alive.
Next they rise up in angry, mesmerising currents. They are as if in balance, at this boundary between the land and the sea.
Thanks to his two passions, sailing and travelling, Kim Rouch has transported his art to many countries. Today, he lives in the Southern Manche area and is still as passionate. His travel has become an inner journey towards interpreting the quiet and turmoil of the marram grass, white-crested waves, the purity of our ever changing and moving coastlines.
www.kimrouch.com

MATHILDE LOISEL – Engravings
Engraving a curved piece of original material – thus Mathilde Loisel likes to produce a raw, unnuanced image, pushing the limits of the mould in the search for a result with a fine delicacy. The result is characters with exaggerated features, huge eyes, amazing headdresses……..which tell the story of Normandy through its legends and heritage, such as that of the Chateau de Gratot's Fairy Andaine.
The exhibition has also an underlying theme: "The people here".  The artist expressed her vision of a place or a town of the region by creating characters of her own. Always inspired by encounters with "the people here" and Mathilde's imaginary world, they give out hints of their Manche origins via an attitude, details in clothings or accessories.
Based today at St Jean le Thomas, the area where she grew up, she has a wealth of stories to tell us.

MARC DUPARD – Sculptures
Sculpture of the emotions. Having begun his sculptural life in stone, wood and other materials, Marc Dupard is now passionate about metal and the New Realists. The 'accumulations' of Arman, the 'compressions' of César – these means of expression call out to him.
Without denying his early work, he now aims for a contemporary approach: extravagance, folding effects, giving the impression that solid objects can be soft, heavy objects light, disrupting the senses.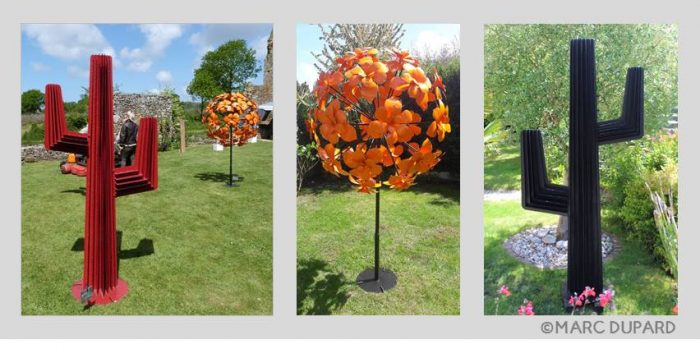 PRACTICAL INFORMATION
2018 SUMMER PROGRAMME AT THE CASTLE: read our article or download the programme (French version only): CHATEAU_DE_GRATOT_PROGRAMME_2018

CASTLE VISIT: every day from 10:00 am to 07:00 pm
Including permanent exhibit on the Castle's history: "Centuries of life"
Entry fees: adult €4, 10- 18 years old €1.50

K. ROUCH, M. LOISEL ET M. DUPARD EXHIBITIONS– during visiting hours and included in the entry fee –  every day from July 1st  juillet to September 16, 2018

Tags: artiste, chateau, été, exposants; a propos de jardin; 2014; pepinieriste; manche; gratot; jardin; plantes, Exposition, gravure, kim rouch, manche, marc dupard, mathilde loisel, Peinture, visite