Uncategorized
from September 21 to 22, 2019

ARTS AND ENTERTAINEMENTS – "POSTCARDS" [THEATRE] – ART EXHIBITIONS
This year, the European Heritage Days turn to the Arts and entertainments. A theme that echoes the mission the volunteer workers of the Centre d'Animation du Château de Gratot have undertaken since 1968: to preserve the Castle and make it place of expression for arts and culture. Events such as A propos de jardin, A propos de sculpture as well as theatre, danse, cinema, live performances, arts exhibitions, vikings camp reconstitutions … have always enlivened our old ruins.
For this edition, you have rendez-vous with live performance with "Postcards" by the Compagne Théâtre aux champs, and the arts with the exhibitions of Véronique Attia, Bernard Vernochet and Marc Bernard.
THEATRE – POSTCARDS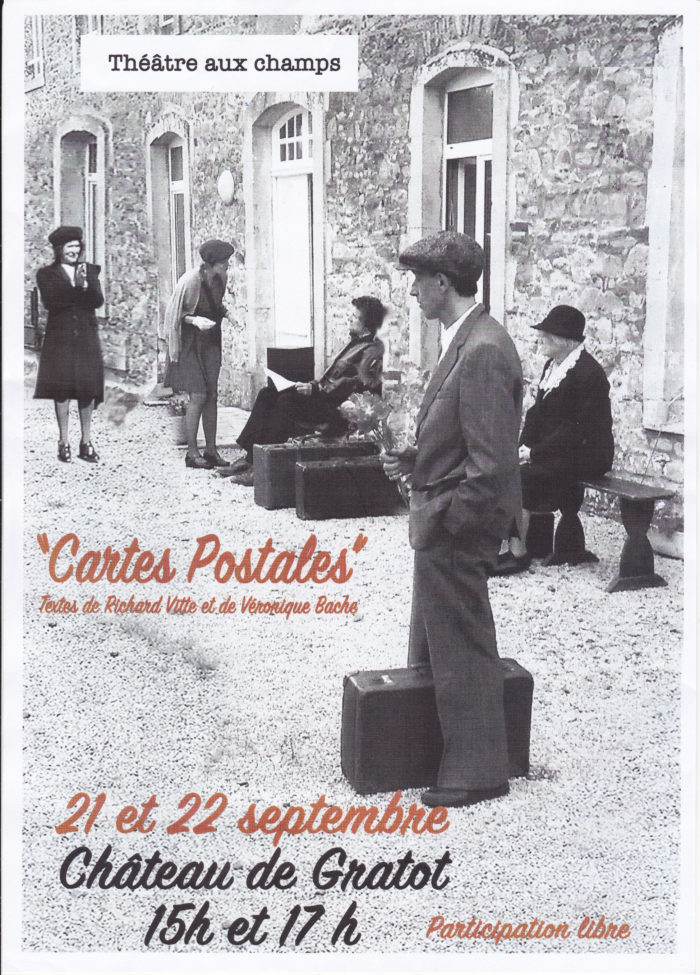 A walk through the centuries on the Castle's grounds. Between laughter and tears, you will travel with the actors in our Cotentin region from the French Revolution to WWII Liberation times, passing from the countryside to the local fair all the way to Terra Nova.
Texts by Richard Vitte and Véronique Bache.
Staging by Richard Vitte.

Outdoor performance for all publics.
Artists' fees according to public's generosity.
ARTS EXHIBITIONS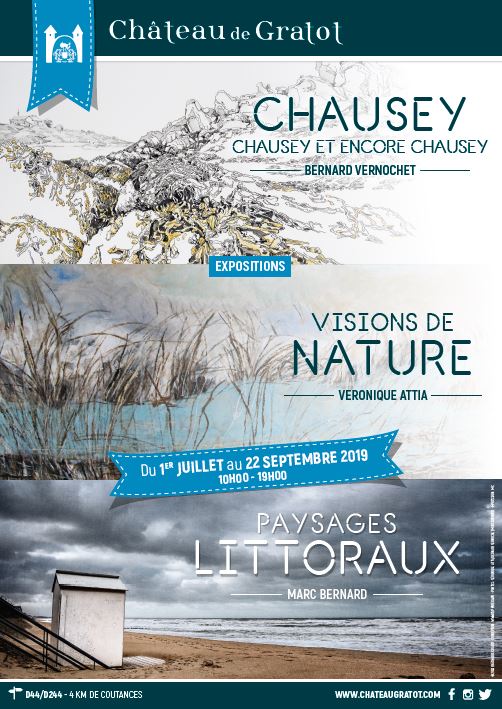 Come and re-discover the paintings of Véronique Attia and Bernard Vernochet as well as the photographies of Marc Bernard.
Our shores, Chausey Island, nature and our landscapes are the center theme of their art work. Find out more by reading our article on this summer's exhibitions.
PRACTICAL INFORMATION
Saturday and Sunday September 21 & 22, 2019
Castle's visit
Opening jours: 10:00 am to 07:00 pm
Free entrance to: self guided tour, painting and photography exhibits, and theatre performances
"Postcards" by Théâtre aux Champs: at 03:pm and 05:00 pm both on Saturday and on Sunday

Free parking
Centre d'Animation du Château de Gratot
80 rue d'Argouges
50200 Gratot – F
Tel.: + 33 2 33 45 18 49
contact@chateaugratot.com