from May 21 to 31, 2020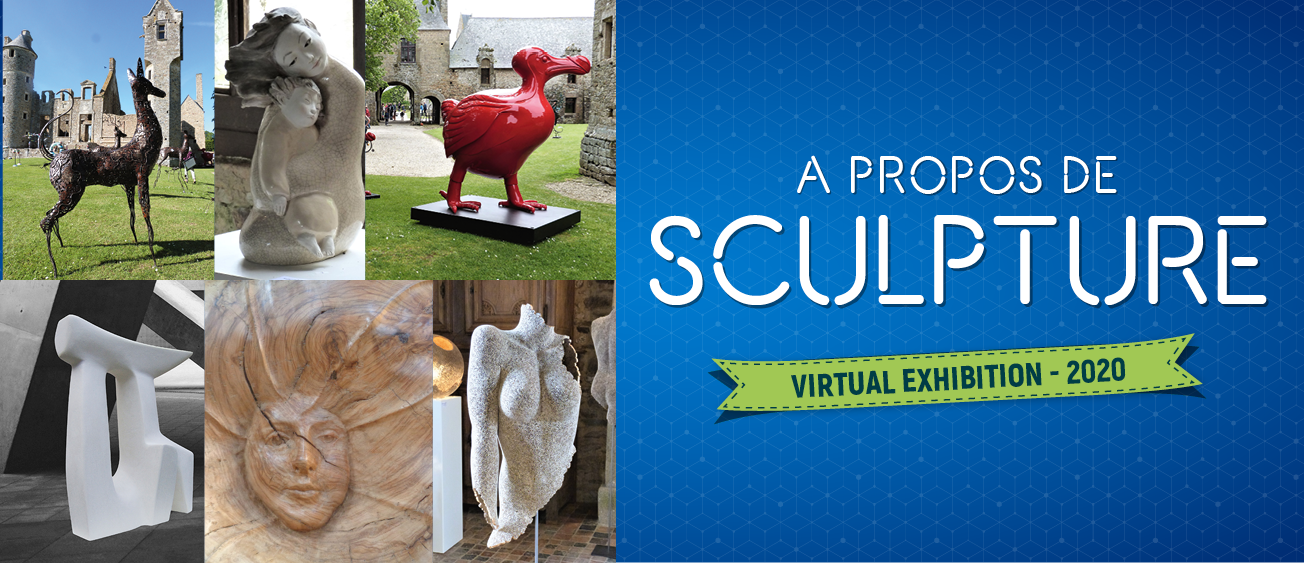 How about if, this year, the A Propos de sculpture artists came to you?
Following the cancellation of cultural events across France, we have decided to bring culture to life in a different way – join us on our Facebook page from Thursday 21 May for an #APS2020 in your living room!
This year, A Propos de Sculpture will take place, not at the Chateau, but on-line.
For 5 years now, A Propos de Sculpture at the Chateau has been a joyful transformation of the site into a place of artistic expression and exchange – a place which welcomes sculptors, craftspeople, musicians, visitors and volunteers, during 4 days which are intensely sculpture.
The unprecedented period we are living through poses questions for all of us, and invites us to look to the future while rethinking the way we operate. We have had to abandon our plan to hold the event at the Chateau – but not our dreams, or our motivation over the years to breathe new life into old stones. That is the purpose of this virtual exhibition: to take you behind the scenes of A Propos de Sculpture and to present the programme for 2020, which so inspired us during the preparation.
The wealth of riches of our area includes our regional artists. This year, more than 30 of them had committed to come to the Chateau to meet you and to share their passion with you. It's now up to us to support them, to go and meet them and discover their creations.
Culture will remain alive if that's what we really want!
The virtual exhibition is live on our Facebook page from 21 May at 10 am, atthe date and time originally planned for this year. We have given you an idea here, follow us to see the whole of the exhibition.
Let's start with a behind the scenes tour: what exactly is A Propos de Sculpture?
Above all else it is a meeting place which is unique in the region, born from the imagination of the Chateau's volunteers, and their desire to create an event which brings together sculpture and preservation of our heritage, with a strong outreach in the local area.
To organise A Propos de Sculpture each year we need:
Passion for sculpture, materials and ancient stones. Passion for exchange with the visitors, which is what the artists do by being present on site throughout the event.
Volunteers who, throughout the year, go off to visit the artists throughout western France to invite them to take part in the event; and then who, each in turn, transform themselves into curators, guides, site managers, salespeople, communication specialists, chefs, bar staff……More than 50 volunteers are involved in the success of our events and the summer season each year.
A remarkable site which is not usual for this type of event – the Chateau of Gratot. In parallel, the event allows the Association to raise funds for the maintenance and preservation of the site.
A bespoke programme
More than 20 sculptors on-site over 4 days
Over 400 works exhibited and available for sale
2500 visitors
2 to 3 workshops and demonstrations each day for adults and children
2 concerts
2 pieces exhibited off-site in Coutances as a nod to Jazz sous les Pommiers
Who are the sculptors and artists in the programme for #APS2020?
A collection of more than 30 artists with the objective of demonstrating sculpture in new forms, colours and materials, from the smallest to the most monumental. The sculptors base themselves at Gratot for a few days between different exhibitions in France and abroad.
SCULPTORS
Pascal BRESSON
Marie CHARPENTIER
Michèle CHARRON-WOLF
COS
Didier DANTRAS
Gaétane DECHAUFOUR
Jean-Pierre DORON
Marc DUPARD
ELIWAIR
Bruno GUIHENEUF
Boris GUIVARC'H
CRAFTSPEOPLE
ATELIER LES 3A (3A WORKSHOP)
L'OUTIL EN MAIN (TOOL IN HAND)
LYCEE THOMAS PESQUET (THOMAS PESQUET HIGH SCHOOL)
KRISLO
Valentin LAILLER
LE NOIR EMOI
LEB
Denis LEPAGE
Guy LEPLAT
Sylvia NETCHEVA
Martine PICARD HELARY
Didier POISSON
Marie-Anne THIEFFRY
VERRE FLAMME SPIRIT
CONCERTS
BAROUF ORKESTAR – Balkan Brass band
QUARTET DANS LES NUAGES – Jazz
Go to our Facebook page to discover their creations and support them! LIKE OUR PAGE NOW to be there with them! We are counting on you!

#CultureFromHome #APS2020 #Normandy #Manche #Sculpture

Tags: a propos de sculpture, châteaux, manche, normandie, sculpture