from May 10 to 13, 2018
SCULPTURE & YOU!
Young and old, expert or art lover, out for a stroll or just curious, come and discover sculpture, from the most tiny to the most monumental, in all its forms and kinds of materials, at the Château de Gratot.
Started in 2016, A propos de sculpture is a meeting-place for enthusiasts.

Passionate about sculpture and materials, ancient stones, exchange and creativity: 20 sculpture artists will be here to greet you from 10 to 13 May 2018 to share their craft with you , discuss their work and build on your comments, for an event with a focus on encountering the artists.
Young and old will be able to immerse themselves in sculpture in an exceptional setting. From the cellars, to the various rooms in the Château, via the central lawn, the sculptures will take pride of place, enabling you to get up close and personal with the works while the artists continue to work beneath your eyes.
The artists for 2018
François CAHUREL         Philippe OLIVE
Chantal COUVREUX        Gérard PATUREL
Enzo CURRO                   Maxime PLANCQUE
Marc DUPARD                 Didier POISSON
L'ENCRE RÊVEUSE       Pascal POUPON
Béatrice ESCOFFIER       Laura RONDEL
Philippe FAUTREZ           Pascale SCULPTEURE
Virginie JACQUETTE      Serge TOURNEUR
Robert LE BIEZ                Michèle TREDE
Laurent MARIE                 Karel VREEBURG

The Château Sculpture programme
Be 100% sculpture!
Taking turns throughout the event, the sculptors will do individual demonstrations: stone working, glass work, steel and wood, 3D sculpture in wire and recycled materials, sketches and mouldings, …
Pupils from La Roquelle high school (in an activity open to children) will carry out demonstrations of working and engraving on stone with opportunities to take part for young and old
the Ateliers d'art des 3A will put on workshops and activities around clay modelling (an activity open to children).
2 concerts in the heart of the Château (more information in our article here)

BLACKSTICK TRIO (New Orleans jazz) Friday 11 May at 3pm
THE SALT PIN-UPS (50s jazz) Saturday 12 May at 3pm

A propos de sculpture 2018 in image et materials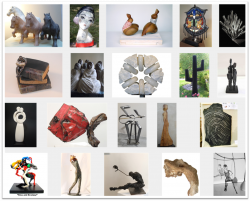 Stone monuments, made by using 3D sculptures

Metal, steel and iron, forged or reclaimed and soldered

Sculpted, worked and painted wood
Clay which is modelled, sculpted, turned, baked with techniques from pottery, ceramics or even raku
moulded, worked, polished and coloured bronze
sculpted 3D printer wire
Chiseled and polished bone
sculpted ceramics
built up wire
glass which has been cut up, coloured, frosted
marble in all its forms, cut, sculpted, varnished …
Focus on the workshops for young and old
Meet the pupils from La Roquelle High School in Coutances
Stone carving and engraving: accompanied by their teachers, they will be at the Château to reproduce in situ, in stone, some architectural details of the Château de Gratot. The pupils are currently on a 2 year training course to obtain a professional certificate in stonemasonry, a professional diploma in stone engraving, or a professional certificate in stonecraft.

Clay modelling workshop with the 3A
The 3A invite you to come and express your creative side, by trying out a range of techniques, and the wonderful material of clay, through demonstrations and workshops over the 4 days.
'Clay is a lovely material which offers every possibility, including changing your mind, but you have to respect its character. It's a material that you work on directly with your hands, without tools – except sometimes when your hands are too big. It's nice and sensitive to the touch, and offers so many creative possibilities, whether free-form, conventional or just random, that you can just about lose yourself in the work of your hands.' (the Atelier des 3A team).

"Please sir,
… sculpt me a bench!"
The pupils of la Roquelle High School celebrate the 50 years anniversary of  the Centre d'Animation du Château de Gratot in their own way: by creating an original and symbolic work of art.
During A propos de sculpture, they will be creating a bench on site in Massangis stone. The bench will then be placed on the lawn before the summer, to stay there permanently, and fit in perfectly with the rest of the Château site.
A big thank you from the Château volunteers to the pupils of La Roquelle High School for this symbol of our mutual love of both stone and partnership.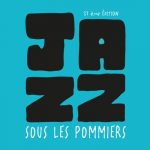 Sculptures make their escape
to take part in
Jazz sous les pommiers!
For the festival, Michèle Trédé and Philippe Poisson have each released a musical sculpture from their workshop! They will be on show at the Tourist Office and at the Quesnel-Morinière Museum in Coutances.
A propos de sculpture – PRACTICAL INFORMATION
From Thursday 10 May 2018 to Sunday 13 May 2018 from 10am to 7pm.

Entrance including Chateau visit and concert: €4 per adult, 10-18 years €1.50 / Free parking
* in case of rain, the concert will be held in the church Gratot.

Château de Gratot (4 km from Coutances)
80 rue d'Argouges
50 200 Gratot –   Tel: +33 6 64 01 05 82

© CACG, Sophie Porques, Cahurel, Couvreux,  Curro, Dupard, Encre Reveuse, Escoffier, Fautrez, Jacquette, Le Biez, Marie, Olive, Paturel, Plancque, Poisson, Poupon, Rondel, Sculpteure, Tourneur, Trede, Vreeburg

Tags: a propos de sculpture, art, Cahurel, coutances, couvreux, Curro, dupard, Encre Réveuse, Escoffier, Fautrez, gratot, jacquette, jazz sous les pommiers, jslp, la roquelle, Le Biez, manche, Marie, olive, paturel, plancque, poisson, poupon, Rondel, sculpteur, sculpteure, sculptor, sculpture, tourism, tourisme, Tourneur, trede, Vreeburg