from May 11 to 12, 2018
2 concerts in the heart of the Château:  A propos de sculpture offers a taste of open air music.

BLACKSTICK TRIO  (New Orleans jazz) Friday 11 May at 3pm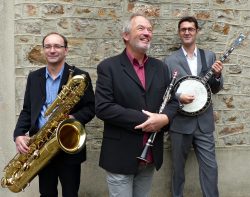 Sydney Bechet is rightly considered as one of the greatest soloists in the history of jazz. He is also a prolific composer with around a hundred and forty works to his name. His key pieces, including "Petite fleur", "Dans les Rues d'Antibes", "Si tu vois ma Mère" have become unmissable standards, played and appreciated throughout the world. Other compositions, although just as stimulating, are less well-known.
Blackstick Trio shine new light on Sidney Bechet as composer. With original instrumentation and unique arrangements, they emphasise the infinite harmonic and melodic richness of his works.
Gilles Veron: Clarinet
Sébastien Vallet: Bass saxophone
Xavier Doré: Banjo
Further information and extracts here 
THE SALT PIN-UPS (fifties jazz) Saturday 12 May at 3pm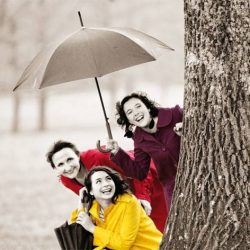 The Salt Pin-Ups revisit vocal jazz standards from the forties and fifties.
Three voices, Armelle Bescond, Amandine Caplanne et Sarah Soulard meet, blend and mix in an explosion of swing.
Accompanied by Jean-Michel Antolin, jazz guitarist and arranger, this vocal trio have an absolutely unique sound.
The staging of Bertrand Antigny means that they connect with the audience in a spirit of teasing playfulness.
Following in the steps of the Andrews Sisters, the Salt Pin-Ups have been on the road since 2011, stimulated by the pleasure they get from seeing the audience smiling and snapping their fingers.
Let's swing!!
More information and extracts on www.saltpinups.com
A propos de sculpture – PRACTICAL INFORMATION
(see full article here)
From Thursday 10 May 2018 to Sunday 13 May 2018 from 10am to 7pm.
Entrance including Chateau visit and concert: €4 per adult, 10-18 years €1.50 / Free parking
* in case of rain, the concert will be held in the church Gratot.

Château de Gratot (4 km from Coutances)
80 rue d'Argouges
50 200 Gratot –   Tel: +33 2 33 45 18 49

© CACG, Blacstick Trio, Salt Pin-ups

Tags: a propos de sculpture, Amandine Caplanne, Andrews Sisters, Armelle Bescond, art, black stick trio, coutances, Gilles Veron, gratot, jazz, jazz sous les pommiers, jslp, manche, music, musique, salt pin-ups, Sarah Soulard, Sébastien Vallet, Sydney Bechet, tourisme, Xavier Doré