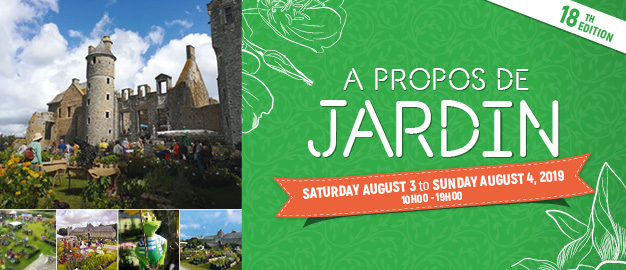 The summer rendez-vous for garden lovers – 18th edition
On August 3 and 4, 2019, 55 exhibitors beautify the legendary old stones of the Castle.
All, from garden amateurs to visitors on a stroll and children, are invited to come and share passion and know how: plants from specialized nurseries or even collectors, garden tools and accessories, antics and modern furniture, outdoor decorations, savors of our soil, presentation of gourmet receipes with roses, pottery, advice from associations and friends of the gardens and art creations.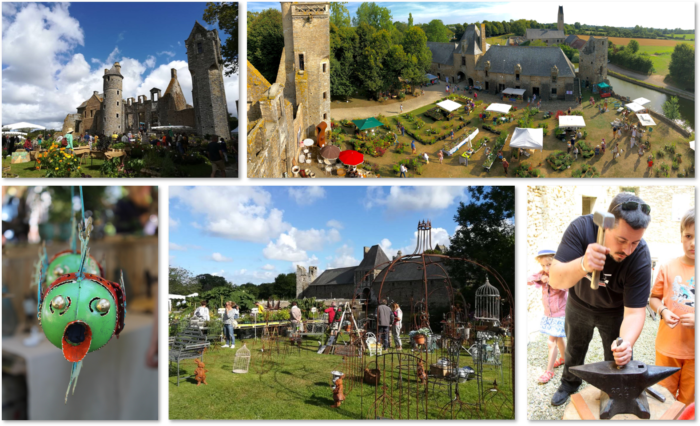 A propos de jardin: Saturday August 3 and Sunday August 4, 2019 from 10:00 am to 07:00 pm.
Highlights
Garden plants, perennials, exotic plants, bulbs, aromatic herbs, cactuses, carnivorous plants, …
Tools, garden decorationsand furniture
Advices and garden friends: associations, "meet the ducks", ..
Artists and art: sculpture, ceramic, decorative engraving, art creations on textile, glass, wood and knifemaking
Coin your medal workshop
Rose receipes presentations and savors of our soil
Entry fees
click here to buy your tickets on line
Adults €5, €1.50 / 10-18 years old, free for children under 10.
Castle visit included
Ermitage Saint Gerbold Hermitage
Opening of the Saint Gerbold Hermitage: Free visit on both Saturday and Sunday afternoons of the inside of the building.
Sunday August 4 at 03:00 pm: guided tour on foot from the Castle to Saint-Gerbold (ticket for tour with professional guide and Castle entry fee: €7 / adult; €3 / 10-18 years old).
Free parking – Beverages, snacks and delicacies stand.

Prepare your visit and download the map (French version only): A PROPOS DE JARDIN 2019 MAP & EXHIBITORS

A PROPOS DE JARDIN 2018 – EXHIBITORS LIST

Plants & garden design, natural products

Pépinière Levanoye 50470 La Glacerie – T : 02 33 43 10 61
Nature Boutique (Tillandsias) 45200 Montargis – T : 06 62 44 51 12
Les jardins exotiques du Mortainais 50140 Saint-Jean du Corail – T : 06 16 25 91 86
Le Jardin d'Antoine 50560 Gouville sur mer – T : 06 30 09 38 51
Les vivaces de Grimesnil 50450 Grimesnil – T : 06 62 88 95 51
PH Gergaud 56130 Nivillac – T : 06 72 92 11 68
Le jardin de Léonie 35140 Saint-Hilaire des Landes
T : 02 99 97 61 34
Le Jardin d'Herbes 35560 Bazouges la Pérouse
T : 02 99 97 40 85
Auprès des roses 35133 Lécousse – T : 06 22 85 26 09
Pépinière des Vieilles Forges 29630 Plougasnou – T : 06 82 03 66 92
Pépinière La Hulotte 22200 Grâces – T : 06 38 45 05 95
Idunn 50480 Amfreville – T : 09 74 76 44 52
Henri Moisson 50690 Virandeville – T : 06 14 19 94 06
EB Salvias 22320 Saint-Mayeux – T : 02 56 43 15 08
Pépinière Brins d'herbes 14400 Vaucelles – T : 02 31 92 92 04
Les Jardins de Bellenau 50500 Saint-Côme du Mont – T : 06 89 15 85 50
Pépinière Bellec 56240 Berné – T : 02 97 34 20 39
Pépinières de Nantois 22400 Planguenoual –  T : 06 82 91 91 71
C'est  mémé qui l'a dit 27600 Gaillon – T : 06 32 89 12 31
Richard Lesaulnier et Land'Art & Work (travaux forestiers et paysagers)
50210 St Denis le Vêtu – T : 02 33 45 38 91 et 50200 Coutances – T : 07 86 85 90 79
Les Bulbes 22550 Henanbihen – T : 06 03 09 94 73
Eden carnivore 14310 Villers-Bocage – T : 06 18 36 87 93
Aloe du Sieur Conseil 50200 Brainville – T : 06 70 99 18 91
La Roseraie de Vendée 85220 Saint-Révérend – T : 02 51 55 24 03

Antics & decorations

La Brocante Anglaise 50340 Benoistville – T : 02 33 52 79 52
Ardoise Jardin 29620 Plouegat Guerrand – T : 06 61 05 88 12
Becovent 78210 Saint-Cyr L'école – T : 06 16 24 66 27
Matières et Nuances 76190 Etoutteville – T : 02 35 56 73 88
Prelass-Modelage du Blavet 56480 Saint-Aignan – T : 02 97 27 50 57
La Mouche Dragon 56910 Quelneuc – T : 06 71 13 85 82
Jardin Décor 14860 Amfreville – T : 02 31 34 44 29
Drakkar Brocante 50200 Gratot – T : 06 13 42 67 03
La Cabane à Copeaux 14240 Cormolain – T : 06 80 89 43 26

Tools

Le Verdusier
75012 Paris – T : 07 77 96 95 15
Acros · Olivier Stehli
41800 Montoire sur le Loir – T : 02 54 85 17 88

Savors of our soil

Le Tournebride (recettes de l'Auberge) 50200 Gratot – T : 02 33 45 11 00
La Route des Traditions (andouille, fromages) 14500 Vire – T : 02 31 68 21 69
La Ferme de l'Ours (huiles essentielles, eaux florales) 50420 Tessy Bocage – T : 06 87 95 79 84
Tutti Planti (sirops, gelées, sels aux plantes) 14470 Reviers – T : 06 88 67 82 68
Excellence Bourbon (épices de Madagascar) 14760 Bretteville-sur-Odon – T : 06 63 58 06 83

Associations and friends of the garden

Association "Jardiniers Amateurs de la Manche" 50330 Maupertus-sur-mer – T : 06 81 90 33 
Biodiversité au jardin CPIE du Cotentin 50430 Lessay – T : 02 33 46 37 06
Espace canards · Michel Ledoux 50200 Gratot – T : 02 33 45 04 89
La Manche Apicole 50000 Saint-Lô – T : 07 85 59 34 31

Art and Creation

Céramiques en ce jardin 14000 Caen – T : 06 86 61 18 29
Atelier des petits pavés · Cécile Bouvarel 50390 Saint-Sauveur le Vicomte
T : 02 33 41 58 10
Couteaux forgés · Julien Pitaud 50210 Roncey – T : 06 81 35 14 22
Paysages Littoraux (photographies) 14850 Escoville – T : 06 95 45 54 77 14480 Rucqueville-en-Bessin – T: 06 83 03 17 79
L'atelier du jardin – raku 14250 Juaye-Mondaye – T : 06 31 17 42 10
Enluminures contemporaines · Sophie Théodose 78100 Saint-Germain en Laye – T : 06 09 89 33 22
Peintures · Marion Alexandre 14410 Valdallière – T : 09 62 33 62 11
Poterie Trompe Souris · Gérard Meunier 14260 Montamy – T : 02 31 25 05 48

Tags: exposants; a propos de jardin; 2014; pepinieriste; manche; gratot; jardin; plantes