from August 05 to 06, 2017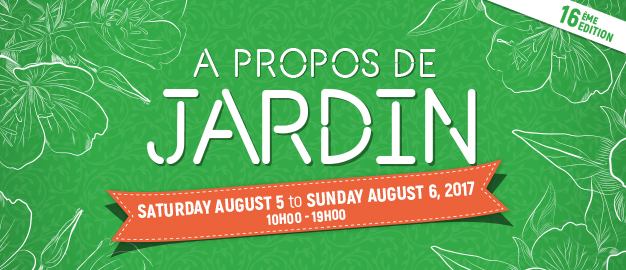 The summer rendez-vous for garden lovers – 16th edition 
On August 5 and 6 2017, more than 50 exhibitors beautify the legendary old stones of the Castle.
All, from garden amateurs to visitors on a stroll and children, are invited to come and share passion and know how: plants from specialized nurseries or even collectors, garden tools and accessories, antics and modern furniture, outdoor decorations, savors of our soil, pottery, advice from associations and friends of the gardens and art creations.
PROGRAMME
A propos de jardin: Saturday August 5 and Sunday August 6, 2017 from 10:00 am to 07:00 pm.
Adults €5, €1.50 / 10-18 years old, free for children under 10.
Castle visit included
Ermitage Saint Gerbold Hermitage
Opening of the Saint Gerbold Hermitage: Free visit on both Saturday and Sunday afternoons of the inside of the building.
Sunday August 6 at 03:00 pm: guided tour on foot from the Castle to Saint-Gerbold (ticket for tour with professional guide and Castle entry fee: €7 / adult; €3 / 10-18 years old).
Free parking – Beverages, snacks and delicacies stand.

A PROPOS DE JARDIN 2017 – EXHIBITORS LIST

Plants & garden design

Pépinière Levanoye 50470 La Glacerie – T: 02 33 43 10 61
Nature Boutique 45200 Montargis – T: 06 62 44 51 12
Meslet Paysages 50200 La Vendelée – T: 06 82 17 23 44
Les Vivaces de Grimesnil 50450 Grimesnil – T: 06 62 36 00 11
Jean-Louis Foubert 50660 Contrières – T: 02 33 47 57 98
PH Gergaud 56130 Nivillac – T: 06 72 92 11 68
Le jardin de Léonie 35460 Le Tiercent – T: 02 99 97 61 34
Le Jardin d'Herbes 35560 Bazouges la Pérouse – T: 02 99 97 40 85
Arboflore 35133 Lécousse – T: 06 22 85 26 09
Pépinière de la Fontaine aux Saules 22400 Andel – T: 06 60 76 34 62
Pépinière La Hulotte 22200 Grâces – T: 06 38 45 05 95
Pépinières de Percy 50410 Percy – T: 06 60 86 71 97
Avondale Paysagiste 50500 Saint-André de Bohon – T: 02 33 42 36 85
Henri Moisson 50690 Virandeville – T: 06 14 19 94 06
Les jardins du Vaudinet 50410 Percy – T: 06 45 52 22 83
Pépinière Brins d'herbes 14400 Vaucelles – T: 02 31 92 92 04
Culture florale 76850 La Crique – T: 06 87 92 75 20
Pépinière Bellec 56240 Berné – T: 02 97 34 20 39
Pépinières de Nantois 22400 Planguenoual – T: 06 82 91 91 71
Jardin Décor 14860 Amfreville – T: 02 31 34 44 29
Richard Lesaulnier – travaux forestiers et paysagers 50210 St Denis le Vêtu – T: 02 33 45 38 91
Les Bulbes 22550 Henanbihen-Matignon – T: 02 96 50 44 35
Eden Carnivore 14310 Villers-Bocage – T: 06 18 36 87 93
Aloe du Sieur Conseil 50200 Brainville – T: 06 70 99 18 91
Philippe Fabre – kokedama 22100 Dinan – T: 07 78 54 31 80

Antics, decorations & pottery

Samuel Rott (métal embossé) 50200 Bricqueville la Blouette – T: 06 88 72 26 41
La Brocante Anglaise 50340 Benoistville – T: 02 33 52 79 52
Matières et Nuances 76190 Etoutteville – T: 02 35 56 73 88
Prelass-Modelage du Blavet 56480 Saint-Aignan – T: 02 97 27 53 22
La Mouche Dragon 22420 Trégrom – T: 06 71 13 85 82
Atelier Au Grès Perché 50210 Guéhébert – T: 09 84 18 26 26
La Frise Poulette (girouettes) 50330 Vicq sur Mer – T: 09 60 13 25 46
Drakkar Brocante 50200 Gratot – T: 06 13 42 67 03

Savors of our soil

Le Tournebride (recettes de l'auberge) 50200 Gratot – T: 02 33 45 11 00
Julien Auffray (nougat) 35000 Rennes – T: 06 27 34 64 59
Herberie de la Belhomière (plantes aromatiques) 50180 Saint-Gilles – T: 06 11 65 89 69
Tutti Planti (sirops, gelées, sels aux plantes) 14470 Reviers – T: 06 88 67 82 68
Excellence Bourbon (épices) 14760 Bretteville sur Odon – T: 06 63 58 06 83

Tools

Le Verdusier 94170 Le Perreux sur Marne – T: 07 77 96 95 15
Acros 41800 Montoire sur le Loir – T: 02 54 85 17 88

Associations and friends of the garden

Association "Jardiniers Amateurs de la Manche" 50330 Maupertus sur mer – T: 06 81 90 33 78
Espace Canards 50200 Gratot – T: 02 33 45 04 89
Castle's boutique
Association Arts et Créations – vannerie 50230 Agon-Coutainville – T: 06 50 70 54 05
Biodiversité et Consommation- CPIE Cotentin 50430 Lessay – T: 02 33 46 37 06

Art and Creation

Sculptures – Maxime Plancque 50150 Sourdeval – T: 06 68 48 42 00
Céramiques Rousseau – Terre d'Ouest 50270 Saint Jean de la Rivière – T: 02 33 93 48 15
Sculptures – Didier Poisson 50500 Saint Georges de Bohon – T: 02 33 42 33 27
Vitrail fusing – Anne Regnault 14000 Caen – T: 06 62 59 23 03
Photographies – Lumière et Histoire "Châteaux, manoirs et abbayes de la Manche"
Meubles nature – Evolition 50370 Notre Dame de Livoye – T: 02 33 51 15 48
Outils détournés – Michel Lecathelinais 50500 Saint Hilaire Petitville – T: 06 07 49 11 89
Couleurs Verre 50200 Saint Pierre de Coutances – T: 06 82 67 15 90
Coutellerie – Julien Pitaud 50200 Coutances – T: 06 81 35 14 22
Artair-e Céramique 14790 Verson – T: 06 15 62 53 71

Tags: 2017, a propos de jardin, animations, artiste, chateau, coutances, décoration, été, exposants; a propos de jardin; 2014; pepinieriste; manche; gratot; jardin; plantes, Exposition, fête des plantes, fleurs, gratot, manche, normandie, Saint Gerbold, tourisme, visite