from August 06 to 07, 2016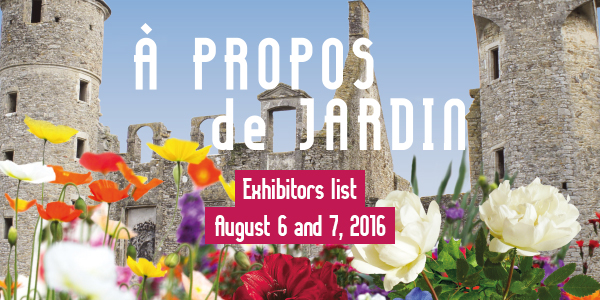 Hereafter the exhibitor's list for the 15th  edition of A propos de jardin – Saturday August 6 and Sunday August 7, 2016 from 10:00 am to 7:00 pm.
More information and photos in our post: A propos de jardin 2016 – programme
PRACTICAL INFORMATION
Beverages, snacks and delicacies stand – Free parking.
Entry fee for A propos de jardin Castle visit included): 5€ / adult, €1.50 / 10-18 years old.
Saint Gerbold Hermitage
Opening of the Saint Gerbold Hermitage: Free visit on both Saturday and Sunday afternoons of the inside of the building.
Sunday August 7 at 03:00 pm: guided tour from the Castle to Saint-Gerbold (ticket for tour with professional guide and Castle entry fee: €7 / adult; €3 / 10-18 years old).
EXHIBITORS LIST
Plants & garden design

Pépinière Levanoye 50470 La Glacerie – T: 02 33 43 10 61

Nature Boutique (Tillandsias) 45200 Montargis – T: 06 62 44 51 12

Meslet Paysages 50200 La Vendelée – T: 06 82 17 23 44

Jean-Louis Foubert 50590 Montmartin/mer –  T: 02 33 47 57 98

Les vivaces de Grimesnil 50450 Grimesnil – T: 06 62 36 00 11

PH Gergaud 56130 Nivillac – T: 06 72 92 11 68

Le Jardin d'Herbes 35560 Bazouges la Pérouse – T: 02 99 97 40 85

Arboflore 5133 Lécousse – T: 06 22 85 26 09

Pépinière de la Fontaine aux Saules 22400 Andel – T: 06 60 76 34 62

Pépinière Campanule 35134 Coesmes – T: 06 60 72 17 57

Pépinières La Hulotte 22200 Grâces – T: 06 38 45 05 95

Pépinières de Percy 50410 Percy – T: 06 60 86 71 97

Avondale Paysagiste 50500 Saint-André de Bohon – T: 02 33 42 36 85

Henri Moisson 50690 Virandeville – T: 06 14 19 94 06

Pépinière Guerrand 50470 La Glacerie  – T: 02 33 88 05 78

Pépinière Brins d'Herbes 14400 Vaucelles – T: 02 31 92 92 04

Culture florale 76850 La Crique  – T: 06 87 92 75 20

Pépinière Bellec 56240 Berné – T: 02 97 34 20 39

Pépinières de Nantois 22400 Planguenoual – T: 06 82 91 91 71

Jardin Décor 14860 Amfreville – T: 02 31 34 44 29

Terre en l'Air 50290 Bréhal – T: 06 01 09 36 06

Richard Lesaulnier (travaux forestiers et paysagers) 50210 St Denis le Vêtu – T: 02 33 45 38 91

Les Bulbes 22550 Henanbihen-Matignon T: 02 96 50 44 35

Eden carnivore 14310 Villers-Bocage – T: 06 18 36 87 93

Aloe du Sieur Conseil 50200 Brainville – T: 06 70 99 18 91

Garden tools

Le Verdusier 94170 Le Perreux sur Marne – T: 07 77 96 95 15

Acros – Olivier Stehli 41800 Montoire sur le Loir – T: 02 54 85 17 88

Antics, decorations & pottery

Anthony Tournage (sur bois) 37310 Saint Quentin sur Indrois – T: 06 98 95 90 91

La Brocante Anglaise 50340 Benoistville – T: 02 33 52 79 52

Yann Brard (mobilier métal) 22940 Plaintel – T: 06 10 50 61 34

Ardoise Jardin 29620 Plouégat-Guérand – T: 06 61 05 88 12

Matières et Nuances 76190 Etoutteville – T: 02 35 56 73 88

La Mouche Dragon 22420 Trégrom – T: 02 96 38 55 59

La Frise Poulette 50330 Cosqueville – T: 09 60 13 25 46

Drakkar Brocante 50200 Gratot – T: 06 13 42 67 03

Prélass-Modelage du Blavet 56480 Saint-Aignan – T: 02 97 27 53 22

Savors of our soil

Le Tournebride (recettes de l'Auberge) 50200 Gratot – T: 02 33 45 11 00

L'atelier du poissonnier (terrines de nos côtes) 50230 Agon-Coutainville  – T: 02 33 47 22 70

Herberie de la Belhomière (plantes aromatiques) 50180 Saint-Gilles – T: 06 11 65 89 69

Tutti Planti (sirops, gelées, sels aux plantes) 14470 Reviers – T: 06 88 67 82 68

Excellence Bourbon (épices de Madagascar) 14760 Bretteville-sur-Odon – T: 06 63 58 06 83

Associations and friends of the garden

Association du Jardin Botanique de la Roche Fauconnière 50100 Cherbourg-Octeville – T: 02 33 88 05 78

Association des Jardiniers Amateurs de la Manche 50330 Maupertus-sur-mer – T: 06 81 90 33 78

Espace canards – Michel Ledoux 50200 Gratot – T: 02 33 45 04 89

La boutique du Château

Association Arts et Créations (vannerie) 50230 Agon-Coutainville – T: 06 50 70 54 05

La Manche Apicole 50000 Saint-Lô – T: 07 85 59 34 31

Art and Creation

Céramiques Rousseau – Terre d'Ouest 50270 Saint Jean de la Rivière – T: 02 33 93 48 15

Vitraux Tiffany et Fusing – Atelier Bogusia 14490 Saint Paul du Vernay – T: 06 30 80 97 97

Enluminures contemporaines – Sophie Théodose 78100 Saint Germain en Laye – T: 06 09 89 33 22

Gravure, Sérigraphie, Design textile – Sophie Mary  (Manufactura 69) 14000 Caen – T: 06 79 10 15 28

Sculptures – Pepito Espin Anadon 14220 Saint-Omer – T: 02 31 69 47 30

Perles de Verre – Couleurs Verre 50200 Saint Pierre de Coutances – T: 06 82 67 15 90

Outils détournés – Michel Lecathelinais 50500 Saint Hilaire Petitville – T: 06 07 49 11 89

Couteaux forgés – Julien Pitaud 50200 Coutances – T: 06 81 35 14 22

Tapissier – Vania Durand 50200 Coutances – T: 06 42 87 42 71

Tags: 2016, a propos de jardin, arbustes, art, bulbes, céramique, création, décoration, fleurs, pépiniériste, plantes, stand, terroir