from May 26 to September 18, 2022
This season's unmissable events at the Chateau! Explore the programme: A propos de sculpture, painting and sculpture exhibitions, A propos de jardin, guided tours and the European Heritage Days.
A PROPOS DE SCULPTURE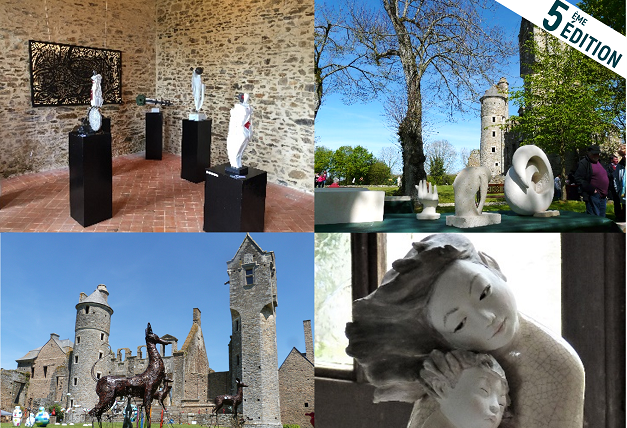 From Thursday 26 May to Sunday 29 May, 10 am to 7 pm
20 sculptors will be exhibiting, and will be at the Chateau for 4 days to meet visitors, and to make live demonstrations of their work.
2 concerts : LE BAROUF ORKESTAR on Friday 27 May at 3 pm and LA MAFIA NORMANDE on Saturday 28 May at 3 pm
Activities for adults and children with l'Outil en main and l'Atelier des 3A
LUMIERE.S (LIGHT.S) • PAINTING & SCULPTURE • EXHIBITIONS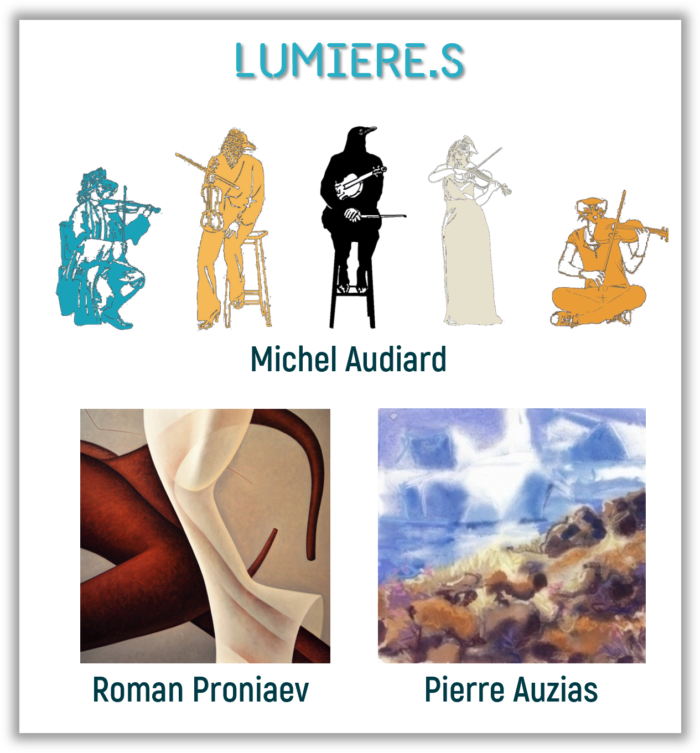 From early July to 18 September
The Chateau welcomes 3 artists, Michel Audiard, Roman Proniaev and Pierre Auzias, for whom Lumière.s is about the interplay of limpidity, structure, volumes and shadows. The exhibitions form part of the first edition of « Les Zendurances », a major project which brings together art and the grandeur of nature! Around the Chateau in Gratot, Les Zendurances offers a walk exploring photos, and events organised by the local council.
"Sketch hunt around the Castle" – Art workshop for 8 to 12 years olds
Wednesday August 10, 2022 at 10:30am or 3:00pm: initiation to sketching by the painter Pierre Auzias – duration: 2h00.
Each child is equiped with 10 A4 sketching sheets, a lead pencil and a clipboard. Pierre Auzias will take the group on a chase around the Castle for details and views to sketch.
The objective is to learn how to compose and frame a drawing and to darken the paper, interplaying with light and shadows.
The workshop is concluded by a display of the work and soft drinks in the 16th C. Service Quarters of the Castle.
A PROPOS DE JARDIN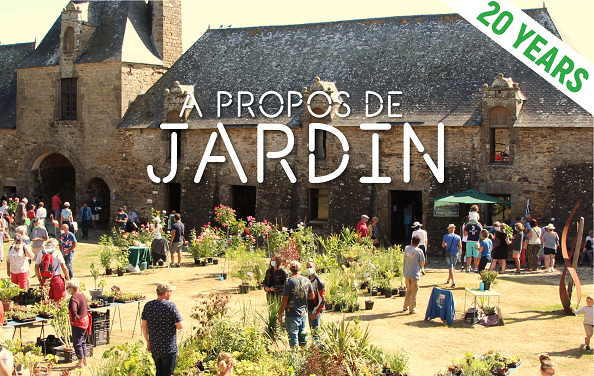 Saturday 6 and Sunday 7 August from 10 am to 7 pm
This year, A propos de jardin celebrates its 20th birthday!
More than 50 exhibitors adorn the ancient stones of the Chateau: plants from nurseries or for collectors, garden tools and accessories, new and old garden furniture and decoration, local food and drink, advice from enthusiast groups, ceramics, artistic creations, exhibitions.
In recognition of the 20 years of the event, exhibitors and volunteers will offer activities and gifts to visitors to mark the anniversary.
GUIDED TOURS • EUROPEAN HERITAGE DAYS
Visit the Chateau at your own pace – on your own, as a family or as a group – through the different areas, inside and outside, with the help of the exhibition 'Centuries of Life'. The route lets you discover the history and architecture of the site as well as the life of the Chateau in different periods. The exhibition is in French and English and is suitable for all, including children, who will find a simple explanation just for them on each notice.
Information on admission and opening times below.
Guided tours with a registered tourist guide: contact le Pays d'Art et d'Histoire du Coutançais ( Coutances area tourist office) – Tel 02 72 88 14 25 or pays.art-et-histoire@communaute-coutances.fr
– History of the Chateau and the Lords of the Manor – Wednesdays 13 and 27 July at 2.30 pm
– A story-tale tour for children, led by the Lord of Gratot himself! Thursdays 21 July and 11, 18 and 25 August at 10.30 am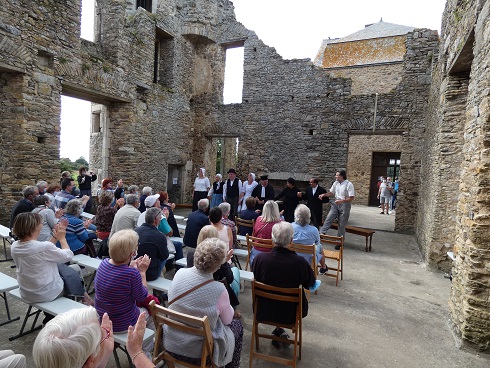 European Heritage Days – Saturday 17 and Sunday 18 September
Special open days where you are welcomed by our volunteers to visit the Chateau and the exhibitions.
The group Théâtre aux champs ( Theatre of the fields) will present their new play 'Café du Village' (Village Café) at various times through the day


PRACTICAL INFORMATION
Castel visit and exhibitions every day from 10:00 am to 07:00 pm (last admission at 6.00pm)
Entry fee: Adult: 5 € ; 10-17 yo/ student (<28 yo): 2 € ; Groups >10 people: 2.5 €/pers.
Free parking
All the information to plan your visit is here
A propos de sculpture and A propos de jardin
Entry fee: adult 6 €; 10-17 yo/ student (<28 yo): 2 €
European Heritage Days
Free entrance to: self guided visit of the Chateau, art exhibitions and theatre performances.
Theatre: a hat will be passed round by the troupe for a collection
Souvenir shop: open
Château de Gratot (4 km from Coutances)
80 rue d'Argouges
50 200 Gratot – Tel: +33 2 33 45 18 49 or +33 6 64 01 05 82
Health & security
>> According to actual sanitary and governmental indications, we remind our visitors to keep cautious and use the protection and distanciation measures you require throughout your visit.
>> we recommend to buy your tickets on line before your visit or to pay on site with a credit card.
Join us on Facebook, Instagram or Twitter
#chateaudegratot #culture #chateau #visite #aproposdesculpture #aproposdejardin #patrimoine #jep2022