from May 01 to September 30, 2017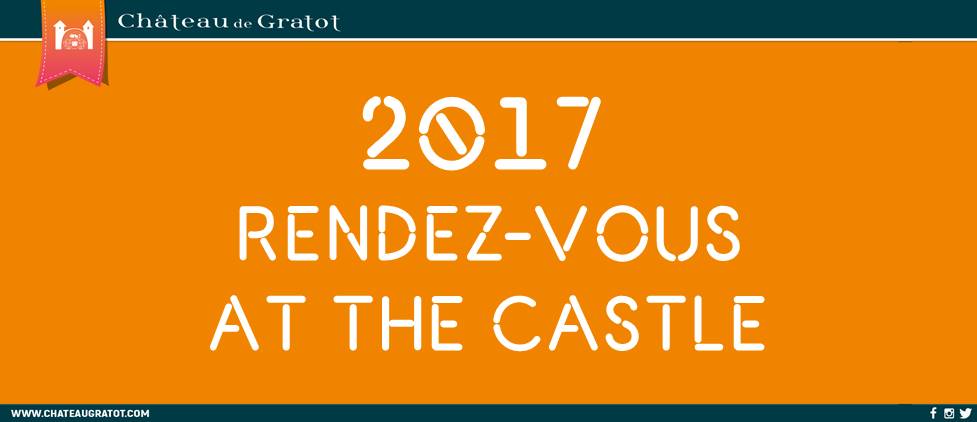 Discover previews of the 2017 rendez-vous at the Castle of Gratot and save the dates in your agendas! 
A propos de Sculpture – from May 25 to May 28 
4 DAYS OF INTENSIVE SCULPTURE with 18 sculptors, workshops & demonstrations and a concert. More information here.
Exhibitions – July and August
Patrick Courault and Michel Pinel – "Light and History" photo exhibition: the Manche heritage enhanced by the point of view of a unique duo, the photographer and the historian.
Book launch of the second volume of « Châteaux  et manoirs de la Manche » and autographs sessions at the Castle: Saturday June 24 from 10:00 am to 07:00 pm
Isabelle Declève   – Paintings and drawings … or oil paintings by a pianist become a painter.
Exhibition launch on Wednesday July 12 starting 5:30 pm, showcasing a recital from the painter's daughter, Camille Thomas, virtuoso cello.
Theatre – July 25 and 26
Perceval, the knight of the Grail – Tuesday July 25 and Wednesday July 26 at 9:30 pm  – outdoor performance in the natural setting of the Castle.
A propos de jardin – 5 et 6 août
A propos de jardin's 16th edition: over 50 exhibitors in the castle and on the outer grounds, plants and ideas for the garden as well as the exceptional opening Saint-Gerbold Hermitage. The 2016 event in snapshots here.
Vikings – from August 12 to August 14
The Castle, transformed  into a Viking camp, is invaded by reconstitutors who recreate Vikings' and Normans' everyday life scenes, handicraft and war games from the vikings times.
VISITS AND EVENTS

CASTLE VISIT – Every day from 10:00 am to 07:00 pm  – Permanent exhibit of the Castle's history: "Centuries of life".
Entry fees: adult €3, 10- 18 years old €1.50

PAINTING AND PHOTO EXHIBITIONS – during visiting hours and included in the entry fee – everyday in July and August

Theatre PERCEVAL, THE KNIGHT OF THE GRAIL – Tuesday July 25 and Wednesday July 26 at 9:30 pm
Entry fee €12 (free for children under 12) – rebooking recommended

A PROPOS DE JARDIN – Saturday August 5 and Sunday Augsust 6 from 10:00 am to 07:00 pm
Entry fee: adult €5, 10- 18 years old €1.50 – free parking
Beverages, snacks and delicacies stand

CAMP VIKING – Saturday August 12, Sunday August 13 and Monday August 14 from 10:00 zm to 07:00 pm
Entry fee: adult €6, 10- 18 years old €1.50 – free parking
Beverages, snacks and delicacies stand

Tags: 2017, a propos de jardin, a propos de sculpture, abbaye, artiste, camille thomas, castle, chateau, châteaux, combats, courault, coutances, decleve, été, Exposition, fleurs, gratot, heritage, manche, manoirs, pinel, plantes, sculptor, sculpture, summer, tourisme, vikings