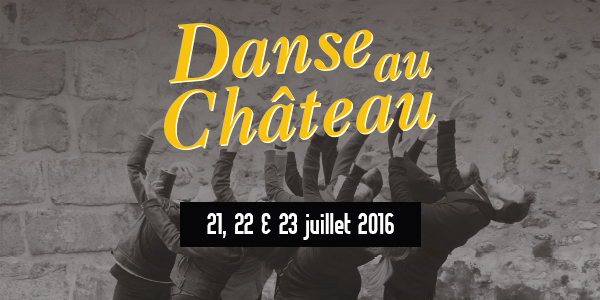 From July 21 to July 23, 2016, fifteen dancers from the Nadine Meyer Company will invade the Castle of Gratot.
On Friday July 22 and Saturday July 23, 2016 at 09:00 pm:  A unique contemporary dance show (duration 1h15), imagined and choreographed right on the premises of the Castle during the days spent on site prior to the show.
On all three afternoons at 03:00 pm: choreographic workshops (duration 2h) designed to open and initiate everyone from youngsters to adults to contemporary dance.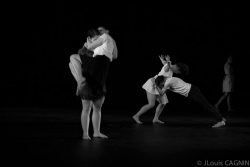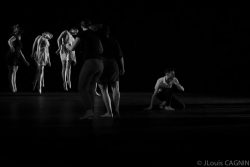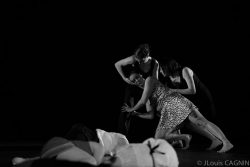 The Company
The Nadine Meyer Company is the alchemy of dancers originating from varying universes, who have been working together for many years and share common experiences of shows and dance festivals.
Directed by Nadine Meyer, the choreographer, the Company has developed a choreographic universe of  emotions and poetry. The diversity and character of each dancer are the strength of the group and give way to unique, strong, embodied and touching creations.
The Nadine Meyer Company has been awarded many times at the occasion of Rencontres Chorégraphiques Nationales organized by the French Federation of Dance: gold medal in 2014, silver medal on 2013 and bronze medals in 2015, 2012 and 2011.
 The show
During the days preceding the show, the dancers of the Nadine Meyer Company invade the Castle and gain inspiration from its ancient walls in order to propose, for two evenings, a unique creation of contemporary dance. Their stay at the Castle is dedicated to shaping and enhancing previously choreographed movements to the rhythm and landscape of the site.
The show will be conceived as a wandering followed by dance interludes in solos, duos, trios or groups, in differents places of the Castle. The public is thus invited to a walk on the grounds, enhanced with lighting effects for the occasion. The wanderings of the dancers will cross the path of the public and, at time, a singers voice will rise within the stone walls and echo to the dancers movements.
The workshops
On all three afternoons, both children and adults (in two separate groups first) can participate to choreographic workshops animated by the dancers of the Company.
With an overall duration of 2 hours, the workshops are programmed as follows: warming up, initiation to contemporary dancing with simple movements, which once danced together, will compose a dance interlude to be staged in the Castle and danced by all the groups together.
Accessible to all, with no limit as to group sizes, these workshops are designed to make each participant [re]discover the Castle, movement and dance.
DANCE AT THE CASTLE – PRACTICAL INFORMATION
Dance show: Friday July 22 and Saturday July 23 at 09:00 pm
Outdoor performance, bring warm clothes – reservation recommended.
Entry fee: €10/ person (free for children under 10).
Children and adult workshops: every afternoon from 15:00 to 17:00 pm on Thursday July 21, Friday July 22 and Saturday July 23 – by reservation only.
Participation per person: €5.
Reservations: + 33 (0)6 64 01 05 82 or contact@chateaugratot.com
Free parking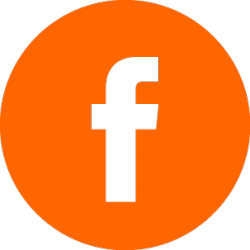 https://www.facebook.com/chateaudegratot/
https://www.facebook.com/compagnienadinemeyer/
 @chateaudegratot  #chateaudegratot #danseauchateau #compagnienadinemeyer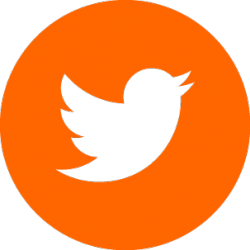 @ChateauDeGratot   #chateaudegratot #danseauchateau #compagnienadinemeyer

Tags: 2016, chateau, contemporaine, danse, danseur, été, gratot, nadine meyer, spectacle en plein air